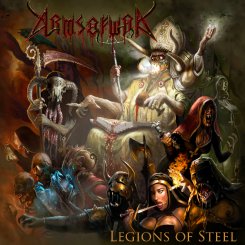 ARMS OF WAR debut album, "Legions of Steel" will be released on April 19 2014, by Turntable Records, division of Groovy International and Noizr Productions.
The album was produced by ARMS OF WAR and Triptykon's guitarist V. Santura and recorded at AOW Studio Brussels, Belgium, mixed and mastered at V. Santura's Woodshed Studio in Germany in 2012 and 2013.
ARMS OF WAR described their music as "thrash, melodic death metal", a great mixture of Thrash/Death Metal with elements of Groove and Heavy Metal, with some Neo-Classical leanings in the solo passages, albeit played in a somewhat lower register. However, in between, his guitar goes into a Groove Death mode which intertwines with the rhythm guitars. The voice is what a voice should be in Death Metal.
"Legions of Steel" will feature the following nine songs, with a playing time of around 40 minutes:
Legions of Steel
War and Pain
Deus Amo
The Void
The Vampire King
Senseless Life in Silence
Prophet of Destruction
Lost Beliefs
Arms of War
Among other formats, the album will be released as Limited edition Digipack CD (booklet with lyrics to every song, and with a sticker), in a Limited Edition Colored gatefold vinyl, and for digital download.
For the first time for ARMS OF WAR, the Artwork was made by Cyril van der Haegen – American award-winning illustrator and concept artist.
ARMS OF WAR are:
Roma Siadletski (bass, vocals)
Vadim Grebenko (guitars)
Dushan Petrossi(lead guitars)
Andreas Lindahl (keyboards)
Alex Shag (drums)
guest solo by V. Santura (Triptykon, Dark Fortress)